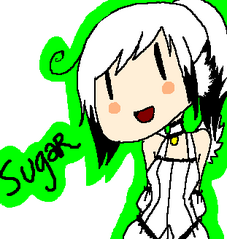 Mew Sugar is an Mew Mew played by the terrible and awful person iTampon
Mew Sugar

Name

Shiro "Natalie" Azucar

DNA

Whooping Crane

Attack

Ribbon Sugar Medley(an area healing attack that heals a few friends for a small amount of health); Ribbon Sugar Forte(A loud burst of sound)

Weapon

Sugar Clarinet

Blood Type

A+

Birthday

September 15

Age

17(at the start) Currently 19

Occupation

Student/Seasonal Mew Mew Cafe waitress

Relationship

Rio Azucar (Father) Yuja Daidaiiro(Younger Half Brother) Reiko DaiDaiiro (Mother) Unknown stepfather
Mew Sugar
Edit
Mew Sugar is a Older mew that has been around the mews for a while,Even thought she has very litttle to no interation with other characters in the TeMM universe. She is forever alone not very good at making friends. She was a highschool senior when she was suddenly struck by Ryou's Pimpin' cannon while he was looking for more bitches to make his hoes, You know cause he likes Girls of all sorts of colors, Pimps like variety. DNA gun while on a family outing to the zoo. Natalie is half spanish american and Half japanese.
Personality and Traits
Edit
THIS IS NOT DONE YET
-Tam
Ad blocker interference detected!
Wikia is a free-to-use site that makes money from advertising. We have a modified experience for viewers using ad blockers

Wikia is not accessible if you've made further modifications. Remove the custom ad blocker rule(s) and the page will load as expected.