Niou Junior High School

Name:

Niou Junior High

Type:

Public

Location:

Minato Ward
Niou [二桜] Junior High School
is a public school located in Minato Ward with a view of Tokyo Bay from the upper floors of the school.
Niou Junior High is renowned for its stellar sports programs, which win many competitions each year. In the classroom, however, most teachers are lax on the uniform code, so most students get away with clothing infractions. Recently the school has also become known as a breeding ground for troublemakers.
Mew Paprika / Paprika "Rika" Kukoumi (紅好味パプリカ 「りか」) — 9th grade
Mew Satsuma / Satsuma "Tony" Touni (橙丹サツマ 「トニー」) — 9th grade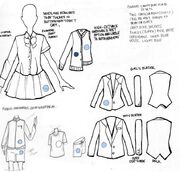 During the winter students wear light blue blazers with either one (girls) or two (boys) gold buttons in the front, either one (girls) or two (boys) vertical buttons on each cuff, and a pocket flap above the left breast. The bottom of the blazer falls mid-hip on the body, and the sides have seamings that tuck in at the waist.
Students must wear a long-sleeved, collared button-up dress shirt during the winter and a short-sleeved, collared button-up dress shirt during the summer. If a student doesn't want the school-issued one, they may buy one of their own. The dress code says these shirts must be tucked in, but due to the lax teachers, there are plenty of students who leave them untucked.
Girls wear light blue plaid skirts, while boys wear grey slacks. Ties (boys) and bows (girls) may be any shade of grey, blue, or white. The school provides high-cut dark blue cardigans and light blue sweaters for the students. The sleeves of the cardigan poke out a little past the blazer's sleeves, while the vests are sleeveless.
Shoes are preferred to come in either black, grey, white, or blue and be either loafers, mary janes, or flats (the last two applying to girls). However, since teachers don't bother checking, many students get away with wearing different types of shoes. Socks may be any shade of blue or grey, and girls may wear any length of sock or tights.
The gym uniform consists of a plain white T-shirt and light blue gym shorts, and a matching light blue sweat jacket is provided during the winter. People on sports teams usually have white and varying shades of blue applied to their uniforms with numbers and school name written in varying shades of grey.